SCHOOLWIDE CUECA COMPETITION
September begins the most fun and treasured time of the year in Chile—Fiestas Patrias! Chile's independence which began on September 18, 1810, commonly known as Dieciocho, is celebrated the entire month of September through Chilean culture, dance, music, and more.

We know that September in Chile may look a little different this year, but as a Nido community we are committed to celebrating together even if it will be done virtually.

On the half day of Wednesday, September 9th, each division will celebrate together with a selection of Chile-themed activities through Zoom, and parents will be invited to participate with their children. To close the day, we will come together for our first-ever virtual all school assembly

In anticipation of this assembly and Dieciocho, we are announcing a schoolwide virtual Cueca Competition! The Cueca is the official dance of Chile and commonly taught to Nido students during this time of year.

This year, we will encourage students of all ages and their families to compete in categories that they can complete in their households. If you have never danced Cueca before, that is not a problem! We are sharing a video tutorial for you to start getting ready and we encourage all family members to participate!
THE THREE CATEGORIES
Note: Each of the categories has a different song, so make sure to send us your videos with the correct song for the category you are registering for.
Need some extra practice or tips before submitting your film? Ms. Lorena Rodriguez will offer a rehearsal on Saturday, August 28 at 10:00am for the couples categories and at 11:00am for the solo category. Email lrodriguez@nido.cl for the link to join the session.
---
Parent/Grandparent & Student Cueca
For all of those enthusiastic moms, dads, or grandparents who would like to dance with their children or grandchildren.
SONG: "La Consentida"
---
Siblings Cueca
Sister & brother, sister & sister, or brother & brother–get your handkerchiefs and start practicing!
SONG: "Cuatro lagos del Sur"
---
Cueca a la Bandera
(Solo)
If you are a Nido Community member (student, parent, or faculty/staff) and want to participate in this fun contest, but don't have a willing partner, you can still dance to the beautiful Chilean Flag!
The steps are the same as used in the video tutorial above, but you may see some solo examples here, here, and here.
SONG: "Chicha de Curacaví"

---
What aspects will we evaluate to choose the finalists and winner?
Dance: Knows steps and choreography. Coordinates with partner and/or music.
Outfit: Uses Huas@ costume (de campo o elegante) or a creative substitute made with items in their own home and handkerchief
Grace: Not only knows the choreography but dances it gracefully and with a huas@ attitude!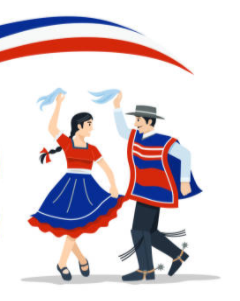 The deadline to submit the videos to communications@nido.cl is Thursday, September 3rd at 10am. Please submit your video with the subject line "CUECA COMPETITION" and include the category you are competing in and the names and grades, if relevant, of the participants. The judges will meet that same day. A selection of finalists representing different ages in the School will be chosen and edited together in a video that will be shown during the assembly on September 9th, and an overall winner will be announced. The finalists will each receive a Nido Goodie Bag and the winner will receive a special prize.