THE IMPACT OF PROFESSIONAL DEVELOPMENT FOR OUR STUDENTS
"Your computer can't always install a major upgrade while it's in use. It often needs to shutdown and restart to replace the old systems," says Jason Scoles, Director of Professional Development, about the importance of Professional Development at Nido.
"Regularly dedicating time to professional learning while the students are not on campus is essential to ensuring that our teaching and learning is as high quality as possible for our students—and we can't just do this during holidays as they're too far spread apart to make the improvement work stick in a meaningful way. It needs to be done throughout the year, with consistency, for us to ensure sustained progress, find out what's working and what needs improvement, and to keep ourselves accountable."
Nido faculty are recruited from the best around the world and within Chile, and our teachers are invested in constantly improving their methods and practices. Nido is unique in that it provides 300 hours per year of professional development (PD) to its teachers—during student holidays, faculty meetings, after school, on weekends, on holidays, and through the important PD Half Days.
Opportunities for professional development, onsite and offsite, keep our teachers energized, learning, growing, and improving their craft—which directly translates to benefits for our students.
Last year during the PD Half Days, over 240 faculty members worked in groups to create shared beliefs based on best practices in their specific fields, all through the lens of Nido's mission, values, and vision. This work deepened the meaning of what it is to teach at Nido, and how to get better at it with great intentionality. This process is "part of what helps our faculty figure out what to do more of, do less of, and where to target improvement efforts. In this way we are constantly refining our capacity to deliver an educational experience that epitomizes the best of 'The Nido Way,'" says Jason.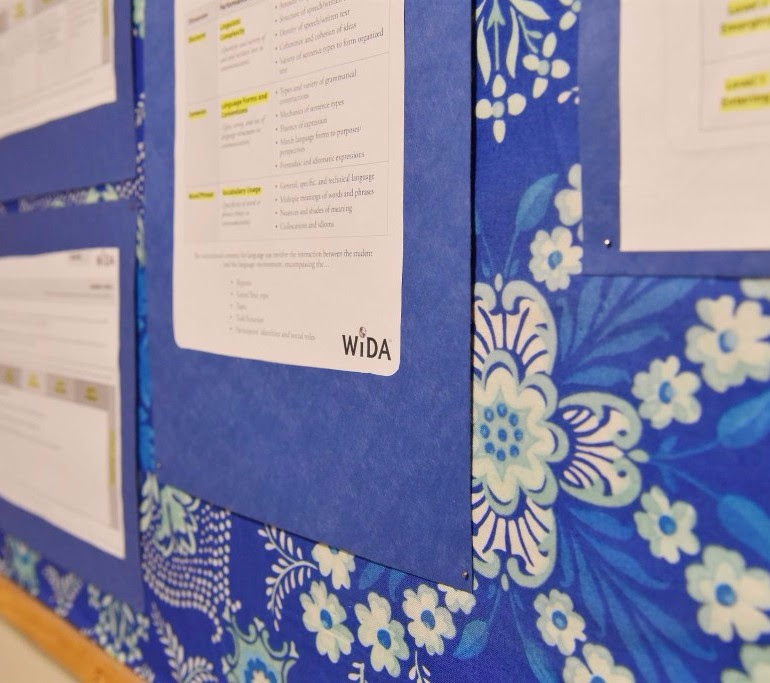 Some areas of the school have already put into practice their work developed during last year's PD Half Days. The English as a Second Language (ESL) team in Elementary School has begun to utilize WIDA, a framework for teaching and assessing academic language, as a tool to determine English proficiency in writing. They collected writing samples from ESL learners in grades 2-5 and scored them according to the WIDA writing rubric to ensure all teachers are using the same criteria to evaluate writing, and at the same time are using the samples as a formative assessment to help tailor instruction to individual needs.
By taking dedicated time to evaluate their tools, methods, and criteria as a team they expanded their understanding of "what it takes to push a student to the next level of proficiency, and what resources to use to do so," said Sharon Dent, ES Language Acquisition Specialist.
Next, the team will amplify their work to the entire school. Through their PD time, they will survey for the specific needs of teachers working with English learners, write curriculum to meet those needs, and facilitate workshops and other opportunities for teachers to learn news skills in supporting English learners—in turn benefiting every English learner in every classroom at Nido.
Teachers also have the opportunity to exchange their processes and methods for how they manage their classes. In a cross-divisional PD meeting for mathematics the Grade 8 math team took inspiration from Genevieve Knaus, HS Math Teacher, to begin the implementation of a new system of tracking student assessment data to empower them to take ownership of their own mastery of specific skills. Students will keep track of their grasp of math standards on each unit assessment through a shared document with their teacher on Google Drive. In addition to keeping track of their test scores, students will also use it as a planning document to drive their review moving forward. It is a place for them to share their reactions to their strengths and weaknesses with their teacher, and to receive individualized feedback on their progress.
PD Half Days at Nido are rich and effective because of the high quality of our faculty. Nido has a plethora of experts on staff, but if faculty are constantly involved in their day-to-day routines there is no time to learn from each other, and to be inspired by each other.
Over the next year of onsite Professional Development at Nido, faculty will continue furthering their understanding of The Nido Way and establishing clear outcomes that benefit our students. They will do this through digging deeply in their divisions as well as vertically in their subjects to address a variety of the topics that affect their practices most. If we want our students to learn, our faculty must also consistently take focused time for learning, analysis, and action.